Hot compression moulding is the sintering of the material at temperatures above the glass transition temperature under a pressure of 35 MPa (5,000 psi). Molding temperature is 350 °C (662 °F). The necessary equipment is a press which is able to maintain 100 metric tons over a 15 hour cycle, and a top and bottom heated mould with heater-band.

Example: the production of a 20 cm (8 in) diameter 5 cm (2 in) high billet.

A suitable release agent is recommended. Before filling the mold, the powder must be dried to eliminate the equilibrium moisture. Drying can be done at 100 °C (219 °F) over 2 hours for a 1.8 kg (4 lb.) loading. At the filling step, the mould should be preheated to 250 °C (480 °F) and the powder should be transferred directly out of the oven into the mould. The first compression up to 17 MPa (2,500 psi) should remove the air from the loading. After this step the heating starts with a ramp up to 300 °C (572 °F). At this temperature the first dwell time with 1 hour is necessary. Then the full pressure of 35 MPa (5,000 psi) is applied and the ramp up to 340 °C (647 °F) starts.
Moulding cycle hot compression moulding of TECAPOWDER PI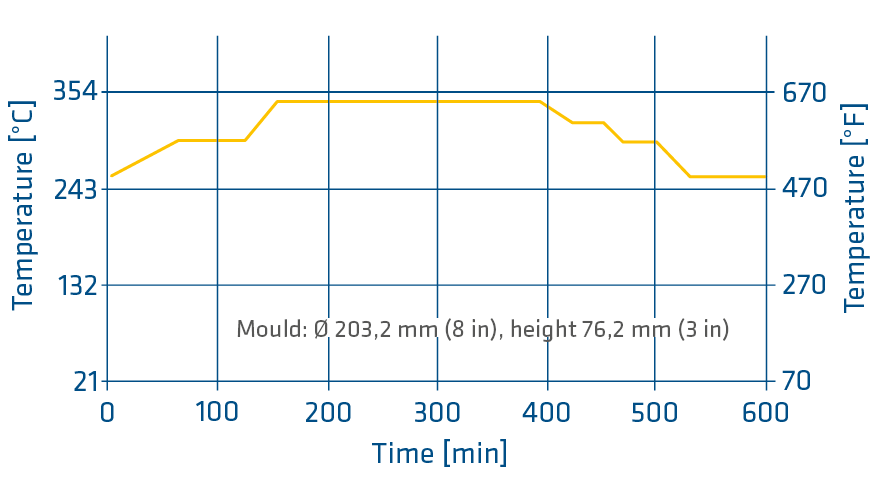 Reaching this temperature, a dwell time of 4 hours is needed to get uniform heat penetration. At the end of this program a slow cooling ramp starts to reduce temperature within 4 hours down to 250 °C (480 °F) under the full pressure. After reaching this temperature the part should be released.
Fillers/Reinforcement materials:
Graphite
Ensinger tested most available graphite types to choose the best material for TECAPOWDER PI. The following properties are significant for use:
For a homogeneously machined surface fine particle size is needed.
For high wear resistance, a good incorporation of the graphite in the matrix is needed, the surface morphology is important.
For improving the mechanical properties, the particle size of filler should be roughly the same as of matrix-resin, the matrix material must be coating the filler-surface after blending.
For blending: the function of blending time and filler-coating is very important. Premixes are necessary.
PTFE
To get a uniform matrix and best friction and wear properties the use of very fine PTFE particles is necessary. Also, the melting point of the additive material should be at the same level as the matrix materials Tg.
MoS2
The lubrication of MoS2 is based on surface-smoothing through material transfer. In this respect it is very important to have very fine particles as a filler and the right percentage in composition. For being able to process MoS2 at approximately 345 °C (650 °F) Ensinger offers a special grade of TECAPOWDER PI.