Hot compression moulded or ram extruded P84 can easily be machined to narrow tolerances by using standard metal working equipment. It is recommended to use carbide tooling if a long tool life is particularly important. High-speed steel can also be used for short runs on multiple-point tools.
When machining TECAPOWDER P84 the following rules should be adhered to:
Use the maximum positive rake angle possible and sharp cutting edges.
Avoid high cutting pressures and subsequent overheating.
Use low feed rates.
Plastics have a higher thermal expansion than metals. Allow the workpiece to cool before finishing.
Avoid deflection caused by the clamping pressure. It is recommended to use O.D. or 1.D. collets. If a chuck is to be used, provide for soft jaws. A higher number of jaws helps distributing the holding force. Reduce the clamping pressure.
Cool the workpiece with air, water or coolant.
The cutting depth has no influence on the surface quality. In order to achieve very close tolerances, it is recommended to rough turn the part and allow it to cool before finish turning. In case of threading, the depth of feed should be lower than 0,0127 cm (0,005 inch) to prevent the threads from chipping. To avoid chattering deflection of long workpieces with small diameters, it is recommended to support them by means of moving collar.
| | | | |
| --- | --- | --- | --- |
| | Cutting Speed | Feed | |
| | feed/min | mm/R | in/R |
| Rough turning | 300-450 | 0,25-0,5 | 0,01-0,02 |
| Finish turning | 450-550 | 0,05-0,15 | 0,002-0,006 |
| Parting | 240-300 | 0,05-0,08 | 0,002-0,003 |
Turning
P84 parts machine easily using standard turning equipment. It is recommended to use carbide-tipped tools. For rough and finish turning operations use a cutting geometry similar to that used for aluminum, for turning on a numerically controlled lathe. The nose radius of the cutting tip should be between 0,1 and 0,2 mm (0,004 and 0,008 in) to guarantee a good surface finish. It is important the cutting tip be level to the center of the piece to be turned. Sharp cutting edges allow high cutting speeds use low feed rates.
Lathe tool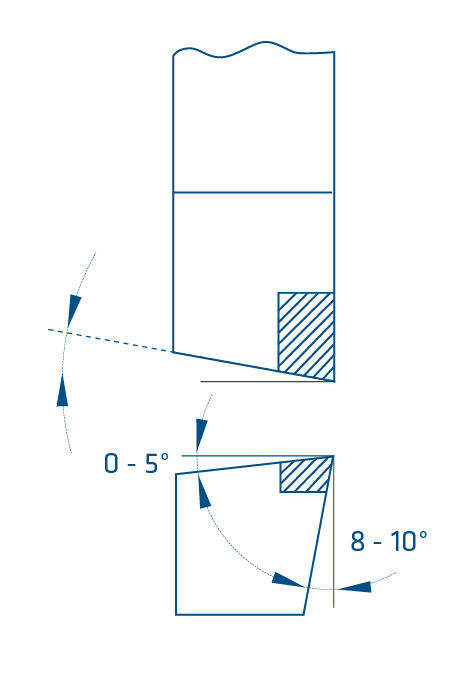 Milling
TECAPOWDER P84 parts can be machined with all standard HSS or carbide-tipped milling equipment. Multiple-point milling cutters are preferably used. To avoid edge chipping, we recommend the milling be performed from the outside of the block towards the center and use small exit angles. Cutting speed should be between 6,35 and 10 cm/min (2,5 and 4 in/min) and feed rates lower than 0,7-0,15 mm (0,03-0,006 in). The lower the feed rate, the better the surface finish. Lubricating or cooling is not required.
Conventional milling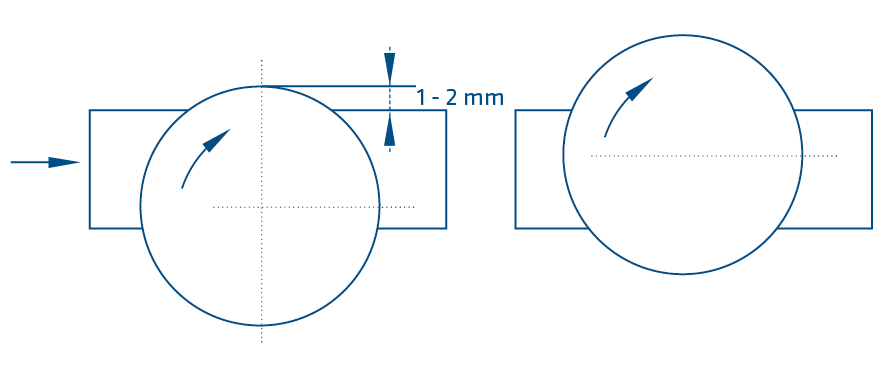 Drilling
SS drills (point angle 90 °C) or carbide drills (point angle 90-120 °C) can be used to drill holes into P84 parts. If the drill diameter is more than 2 cm (0.8 in), reduce the web thickness. Work at drilling speeds of 2,3-2,8 m/s (450-550 ft/min) and feed rates lower than (0.004 in). To avoid local heating in the workpiece, provide for good chip removal.
Parting
TECAPOWDER P84 materials can be cut with circular or band saws. If you use hard metal tipped blades, tool life will be longer. Saw speed for circular saws should be 2-3 m (80-120 in), for band saws 0,3-0,4 m (12-16 in). If plates are to be cut with circular saws, adjust the blade height in such a way that the blade breakthrough is within 2-3 mm (0,08-0,12 in) to the surface to avoid edge chipping.
Grinding
P84 parts can be ground to close tolerances with surface grinders used for metal working. Round bars and tubes are ground on centerless grinders. Use double-coated tape to fix the material to the table and cool with water. Table surface speed should be about 0,3 m/s (60 ft/min) for rough grinding and 0,18 m/s (35 ft/min) for finish grinding.