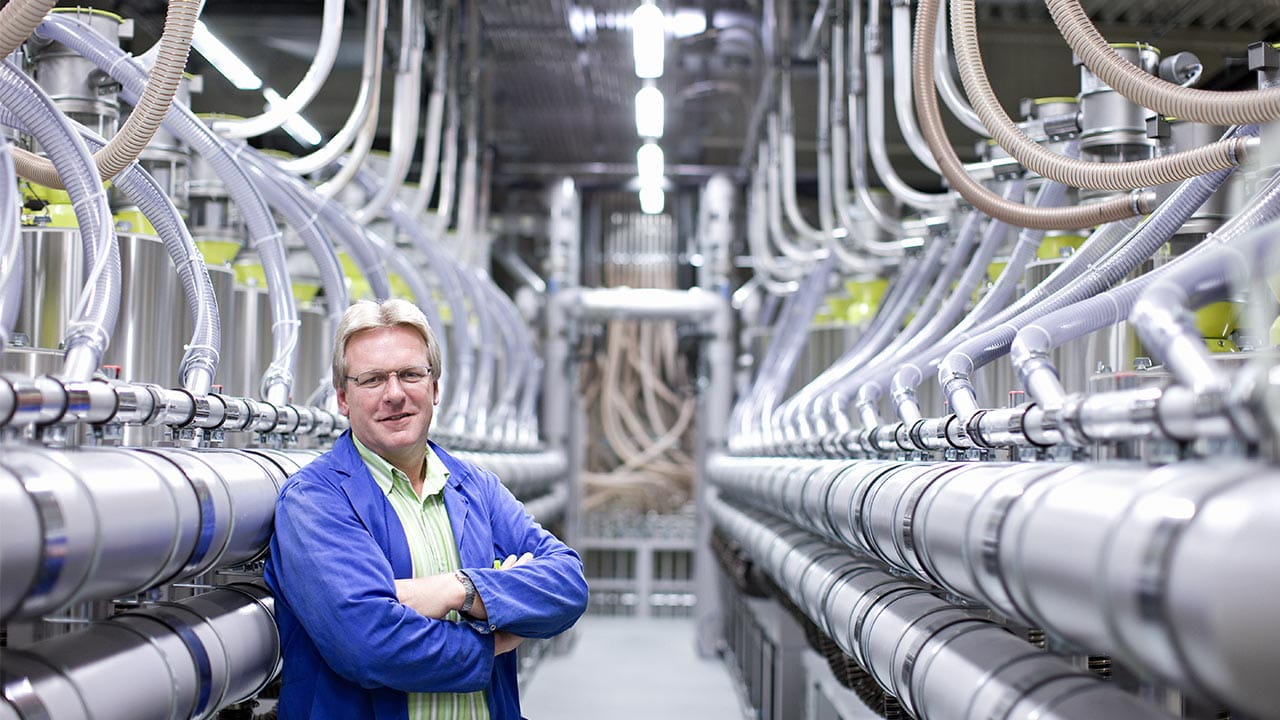 Production
Working in three-shift operation, a total of 55 modern injection moulding machines with closing forces of between 62 and 5,000 kN are available for production of parts weighing from 0.02 g to 1,800 g. 
All production machines, as well as on-site tool maintenance and material provision are linked to a host computer system. This permits electronic production monitoring and control, from the provision of tools right through to the end of production. It also permits production orders and process data required for production to be sent to the machine and accessed again as required. 
The central material drying plant and supply system automatically conveys the required material to each machine. Here, 60 different materials can be dried in parallel. The Motan plant used for this purpose is currently one of the most up-to-date drying and conveying systems anywhere in the world. 
100% synchronous production permits practically zero-defects manufacturing.
Since the end of 2012, the product spectrum has been extended in Ergenzingen to include the direct forming production method.
---
Ensinger offers a wide spectrum of possible assembly, processing and finishing techniques. These include conditioning, rumbling, tempering, ultrasound welding or blast cleaning of parts.
We are also able to simply perform any printing or marking, painting and laser inscriptions, e.g. data matrix code. Another optional treatment is surface finishing, which can be performed for instance by glass bead blasting.
An added benefit for customers is internal cooperation between Ensinger's injection moulding and machining divisions, which allows even the most complex parts to be manufactured economically and with maximum material savings. For instance we are able to produce an end product with a razor-sharp thread directly from a blank, which would entail significant material loss if produced by machining a stock shape.
The selective use of sensors, for instance for internal tool pressure, tool wall temperature or melting viscosity measurement, allows shot-by-shot online process regulation or online quality assurance and control to be performed directly during the injection moulding process, and component tolerances to be produced with the utmost process reliability to within hundredths of a millimetre.
---
Injection Moulding
The injection moulding machinery available in Ergenzingen is suitable for the production of both large and small production runs. Alongside multi-component injection moulding, insert/over moulding is also gaining increasingly in significance.
The performance spectrum of our injection moulding machinery encompasses injection weights from 0.02 g to 1,800 g and a closing force range of between 62 and 5,000 kN.  
The following production processes are possible:
Multiple component technology
Hard-soft combinations (such as sealing lips)
2-colour applications
Materials with different fillers
Insert technology / inlay parts
Insert moulding of stamped bent parts
Production of complete assemblies
Size of the machine outfit: The injection moulding factory uses 55 machines (predominantly Arburg and Engel, Krauss Maffei and Babyplast) and two additional training machines.
Direct Forming