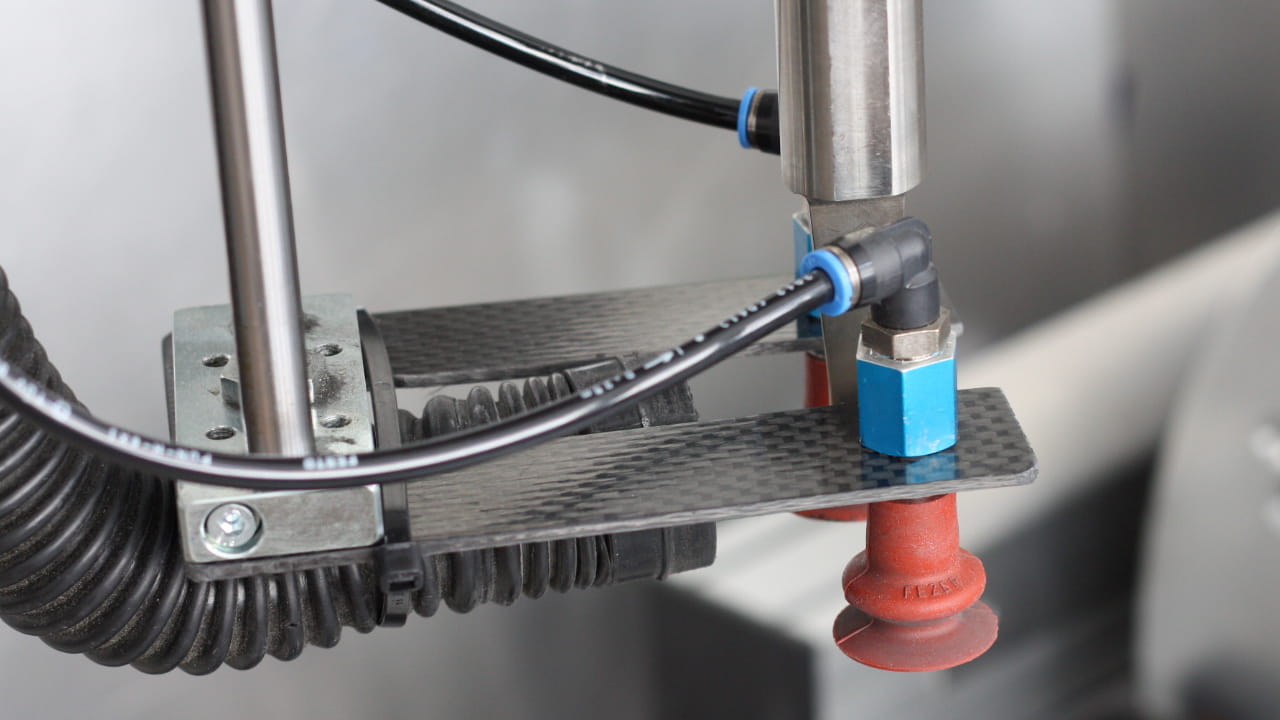 Robotic gripper for a handling device
Advanced automation often requires customised solutions, in particular for the heads of robots. Typical applications are automated solutions for handling devices and respectively their components such as the grippers.
A fundamental requirement for designing a robotic gripper is its low weight. A low weight allows for higher accelerations of the robotic head. Alternatively, the payload can be increased, or even a smaller more cost-effective robot can be used. At the same time, high mechanical properties such as stiffness and toughness are required.
Toughness and light weight
TECATEC PC CW50 black – a continuous carbon fibre reinforced polycarbonate – is excellent for applications in the field of automation. Thermoplastic composites such as carbon plates from polycarbonate, sport outstanding mechanical properties together with a low density. Compared to thermoset based composites, both their toughness and impact properties are significantly higher.
In comparison to other thermoplastic matrix systems such as polyamides, carbon plates with a polycarbonate matrix have significantly better stiffness and strength, even at lower temperatures. TECATEC PC CW50 black has consistent stiffness through a temperature range from -30 °C up to 140 °C. Furthermore, thermoplastic composites possess high creep resistance and outstanding impact properties.
Compared to thermoset-based plates, a fibre reinforced polycarbonate plate is intrinsically vibration damping because of the increased internal damping of the thermoplastic matrix. Coupled with the typical quick movements of robots used to accelerate and decelerate heavy loads, this helps in eliminating unwanted vibrations.
Due to the extremely high toughness of the material, threads can be cut directly into it, eliminating the need for metal inserts or onserts. The achievable torque and thread strength is comparable to those of aluminium.
---
Composite plates as an alternative to expensive press tools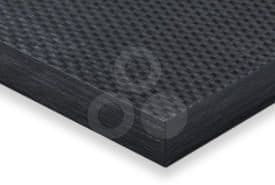 In particular for prototypes, small series or one-offs for industrial applications, semi-finished materials such as stock shapes are used. From stock shapes, it is possible to manufacture more or less flat parts easily and cost effectively through laser cutting, waterjet cutting or machining. Often, investment in pressing tools is not justified due to the small production volume of the application, and therefore using stock shape plate material is an advantageous solution.
The tough matrix material polycarbonate is reinforced with 50% stiff and strong carbon fibres, and can be easily converted through waterjet cutting and machining into individual parts with outstanding properties.
The weight of parts made of carbon fibre reinforced polycarbonate compared to the same part made of aluminium is approx. 25% lower while keeping the same stiffness, as in the example of the robotic gripper.
In addition to robotic grippers and other handling devices, model-making and drone building applications can take advantage of thermoplastic composites such as TECATEC PC CW50 black, and of all the new opportunities of tailored part manufacturing.
For other applications e.g. at higher service temperatures or with specific requirements for chemical resistance or medical applications, Ensinger offers other plates based on different matrix and fibre types, which are guaranteed to suit your needs.