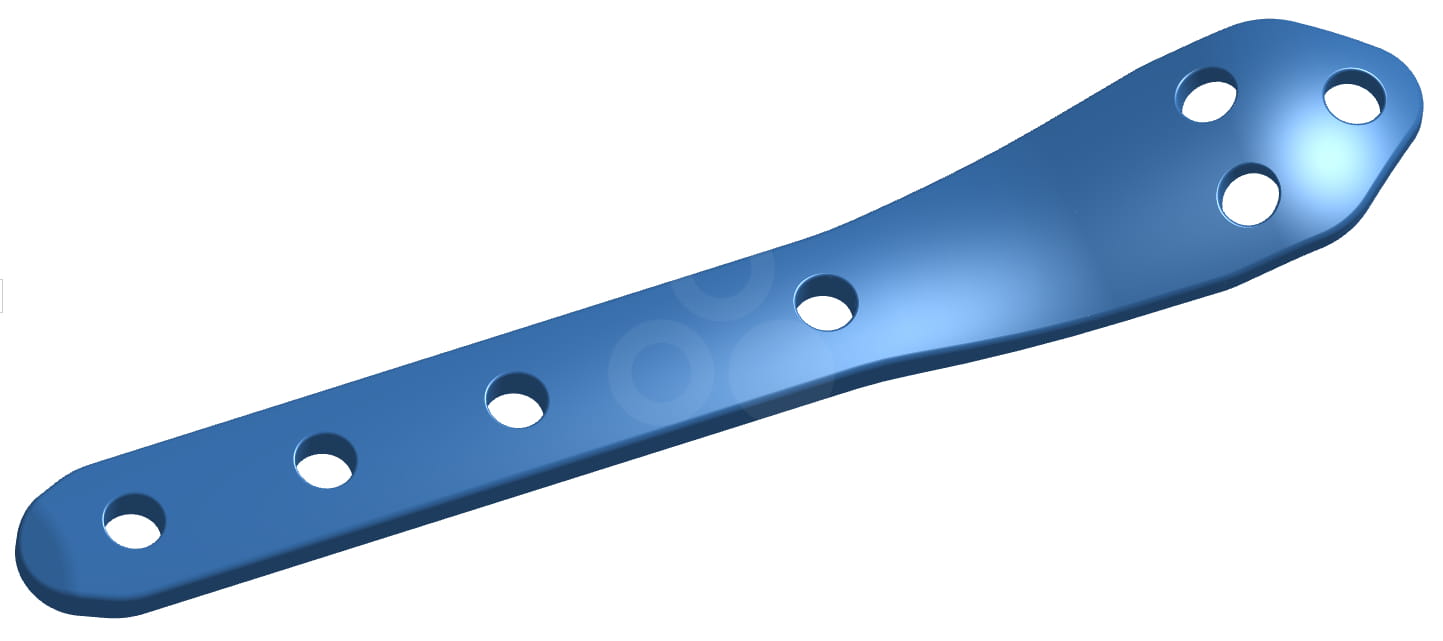 Trial bone plates in traumatology
Bone plates play an important role in the treatment of bone fractures as they hold the broken bone in place and allow it to heal. Bone plates are essential for complete healing, especially in severe, complex fractures or in areas of the body where a plaster cast cannot be used.
Trial bone plates are used to select the right size bone plate. These can remain in the body for up to 24h and are subject to specific biocompatibility requirements. Once the correct implant size has been determined, with the help of the trial bone plate, the bone plate can be inserted.
Trial bone plates can thus optimise the surgical process, increase safety for the patient and even reduce additional costs and unnecessary consumption, for example, when several bone plates have to be unpacked and tested for accuracy of fit.

Until now, trial bone plates have mostly been made of metal, often by means of metal casting.
The high dead weight of metal sample plates makes their use more complex and are also complicated to handle, especially when the body parts are difficult to reach.
Metals are rigid and therefore cannot be optimally applied to the bone fracture in every case. This makes the selection of the correct bone plates even more difficult.
The use of metals also involves increased risks in the area of biocompatibility. For metals, this is only tested and confirmed on the surface alloy. In case of damage, the biocompatibility may no longer be given.
Metals are not radiolucent, which is why the accuracy of fit of the sample plate cannot be checked in some cases.
A new class of trial bone plates through the use of high-performance plastics
High-performance plastics have been able to gain greater importance in the field of medical technology due to their chemical and mechanical properties. Compared to metal, they have a significantly lower weight, are more flexible and can also be sterilised several times. Trial bone plates made of high-performance plastics can also make it easier to select the right size bone plate for complex bone fractures, as they are easier to bend and still retain their shape.
At Ensinger, the high-performance plastic PPSU has been used successfully for many years for a wide range of applications in the field of medical technology. Now the portfolio is being expanded in the form of filaments based on PPSU. Ensinger's own TECAFIL PPSU MT filaments and the X-ray detectable TECAFIL PPSU MT XRO are characterised by very high thermal stability and high resistance to cleaning agents, disinfectants and other solvents. Additionally, the TECAFIL PPSU MT filaments are resistant to hydrolysis and can be sterilised several times by using superheated steam.
Trial bone plates therefore do not have to be disposed of immediately after removal of the sterile packaging, but can be reused several times after renewed sterilisation, thus enabling resource-saving and cost-saving use in traumatology.
With our high-performance thermoplastics TECAFIL PPSU MT XRO blue and TECAFIL PPSU MT blue, which are manufactured in-house at Ensinger, we offer medical grade (MT) filaments based on the plastic PPSU, which are specially manufactured for use in the medical sector. These filaments have been tested and evaluated for biocompatibility in accordance with ISO 10993-1, -4, -5, -18 and meet the specified requirements for contact with skin and tissue for up to 24 hours and, if necessary, indirect contact with blood. Corresponding biocompatibility declarations are supplied with every order of TECAFIL MT filaments. With the help of the order-related declarations, the traceability of the customer's order is ensured.
The TECAFIL PPSU MT XRO developed by Ensinger is also X-ray detectable, which contributes to additional safety during surgical interventions.
Cost-effective & resource-saving: Trial bone plates from the 3D printer
In addition to its advantageous chemical & mechanical properties, the PPSU filament is used in the 3D printing process. Thus, it can be further processed in a cost-effective and efficient way.
In additive manufacturing, sample bone plates can be made to measure, thus limiting the amount of material used to the amount required for the component. This avoids additional costs and waste caused by excess material. The significantly lower weight of the starting material PPSU compared to metal also enables the production of sample bone plates that are significantly lighter and more flexible: 3D printed trial bone plates can achieve a weight saving of up to 40 % compared to geometrically identical trial bone plates made of metal. This offers advantages in handling, transport and application. In addition, trial bone plates can be manufactured in additive manufacturing from batch size 1. The individualisation of the trial bone plate geometry, on-demand production and delivery with consistently high quality is possible.
The production of trial bone plates made of TECAFIL PPSU MT in the 3D printer can be completely covered in-house by Ensinger, from compounding to the production of the filaments used to the trial bone plate printed in the 3D printer. Thus, we offer a particularly cost-efficient production from batch size 1 up to small series.
With a surface quality of 1.6 µm measured & classified according to the arithmetic mean roughness value RA and external tolerances tailored to the end application area, we can produce optimally finished sample bone plates. Depending on the area of application, matt, glossy or laser-marked surfaces are possible. If desired, the laser marking can also be carried out at Ensinger.
Test specimens made of TECAFIL PPSU MT using 3D printing have also been tested and evaluated for biocompatibility in accordance with ISO 10993-1, -4, -5, -18. These test specimens also meet the specified requirements for contact with skin and tissue for up to 24 hours and, if necessary, indirect contact with blood.
Ensinger - your partner for medical filaments and 3D-printed trial bone plates
With over 50 years of experience in the field of high-performance plastics, Ensinger is your partner for high-performance plastics in the medical sector. With our in-house compounding, highly specialised experts for filaments and the handling of all processes in-house, we cover the entire value chain. We will be happy to support you in selecting the right material and processing method for your individual application.