(function(i,s,o,g,r,a,m){i['GoogleAnalyticsObject']=r;i[r]=i[r]||function(){ (i[r].q=i[r].q||[]).push(arguments)},i[r].l=1*new Date();a=s.createElement(o), m=s.getElementsByTagName(o)[0];a.async=1;a.src=g;m.parentNode.insertBefore(a,m) })(window,document,'script','https://www.google-analytics.com/analytics.js','ga'); ga('create', 'UA-98473248-1', 'auto'); ga('set', 'anonymizeIp', true); ga('send', 'pageview');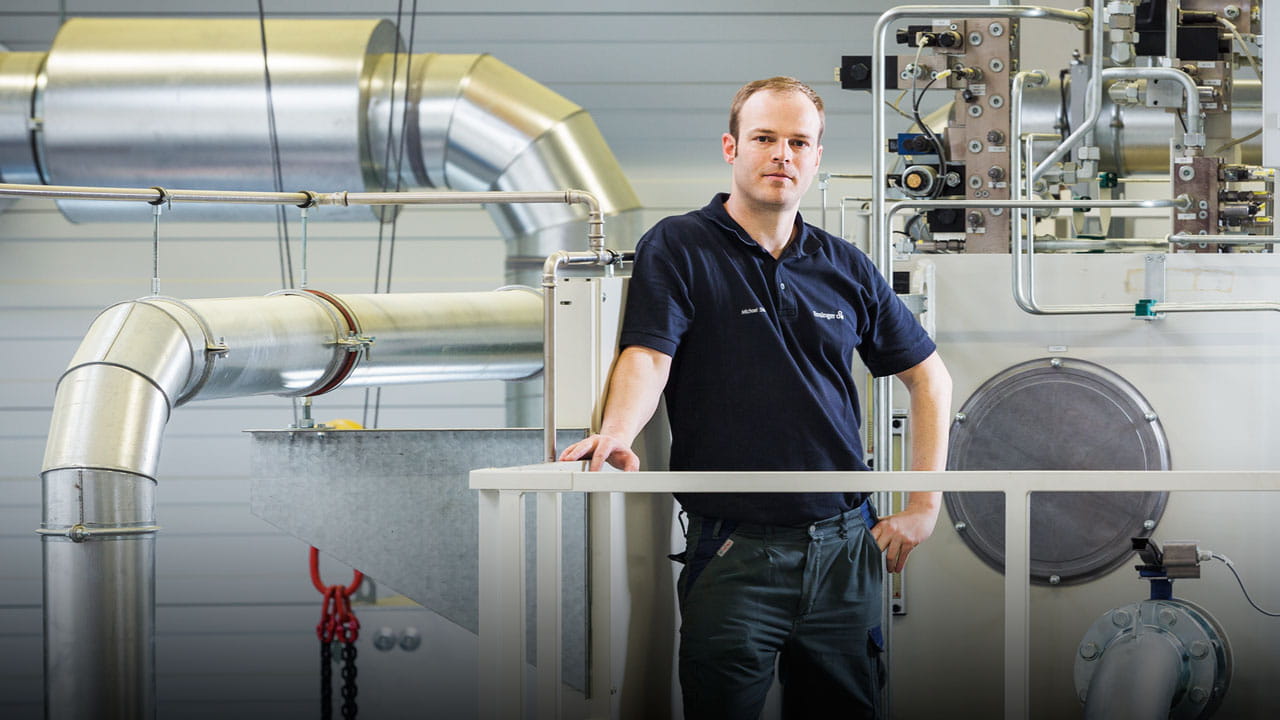 Sintered and Direct Formed Plastics
PI material, (chemically known as Polyimides) is a non-melting high temperature polymer. In addition to the sintering process used to produce stock shapes, finished components can be cost-effectively produced in larger quantities using the direct forming process.

PI plastics are used everywhere where very high or cryogenic temperature resistance is required. Even above 260 °C, dimensional stability, strength and creep resistance remain high. For wear and friction applications Polyimides are the ideal material due to the ability to work under unlubricated conditions, low wear rates and high pV-rates. Thus lifetimes are extended and maintenance costs reduced.

Polyimide applications can therefore be found in a wide range of industries.For aerospace and semicon industry the high purity and low outgassing are additional benefits of Polyimide plastics.
---
Polyimides have exceptional properties for high performance applications
Long-term thermal stability 300 °C (short-term up to 400 °C)
High heat resistance up to 470 °C (HDT/A)
Good cryogenic properties down to -270 °C
High strength, modulus and stiffness also at high temperatures over 260 °C
Excellent wear resistance under high surface pressure and high sliding speeds
Excellent thermal and electrical insulation
Minimal thermal conductivity
High purity, low outgassing in vacuum conditions in accordance with ESA regulation ECSS-Q-70-02
Good machinability
Good chemical resistance to acids, fats and solvents
Inherently flame retardant (UL 94 V0)
---
TECASINT Product Families
The materials belonging to the polyimide group are characterised by an unusually complex property profile with a large number of excellent individual characteristics and so take up a position at the tip of the material pyramid.
Ensinger offers rods, plastes and tubes as well as customized direct formed parts. Polyimides (PI) are produced by polycondensation.
They are non melting due to the high amount of ring-shaped, mostly aromatic chain links and high molecular weights. The manufacturing of semi-finished products or direct-forming parts is therefore done exclusively by sintering techniques.
TECASINT 1000
Very high modulus
High rigidity and hardness
Previous designation "SINTIMID"
TECASINT 2000
Very high modulus
High rigidity
High hardness
Significantly reduced moisture absorption compared to TECASINT 1000
Higher toughness and improved machining capability
Ideally suited for direct forming components
TECASINT 4000
Minimal water absorption
Highest stability against oxidation in air
Low friction and wear
Optimum chemical resistance
HDT /A up to 470 °C
Different types available with high elongation at break and toughness our with high flexural modulus
TECASINT 5000
Cost-effective polyimide-types for the semiconductor industry
Extremely good dimensional stability
Load capacity up to 300 °C
TECASINT 8000
Matrix of PTFE reinforced with PI powder
Reduced creep under load
Excellent sliding and friction properties
Ideally suited for soft sliding partners (stainless steel, aluminium, brass, bronze)
Best chemical resistance
Easy machining properties
---
Core industries for the use of Polyimides
Polyimides for automotive applications
Due to the TECASINT property profile, these materials are frequently superior to other plastics and metals. They can be used to implement applications involving the most extreme conditions, and are used for applications in the automotive industry requiring mechanical stability under high continuous temperatures or high pV values in lubricated and unlubricated environments. Use of the direct forming method allows the economical manufacture of serial parts complying with the narrowest of tolerances.
Polyimides for vacuum and cryogenic
Applications in vacuum and cryogenic technology require materials with good mechanical and tribological properties coupled with low outgassing values. Therefore, TECASINT 2391 is the ideal solution for these fields of application.

Polyimides for aerospace applications
Low outgassing rates, high purity and good mechanical properties are key requirements in the manufacture of satellites. Excellent tribological properties, a long service life and low wear are essential criteria for the production of bearing bushes used in modern aircraft engines. TECASINT is the ideal material to address all these
needs.
Polyimides in the glass industry
The use of polyimides can enhance productivity in the manufacture of glass bottles for container glass, the pharmaceutical and cosmetics industry. Their excellent temperature resistance and low thermal conductivity lend these high-performance plastics key benefits, particularly for hot- glass handling, compared to components made of graphite. They also help extend the service life of components and reduce the reject rates. In addition, these materials are economical to process, making them an ever more popular alternative for the production of take-out tongs and bottle grippers.
Polyimides for mechanical engineering
Various applications in mechanical engineering require demanding mechanical and tribological properties at temperatures above 200 °C. TECASINT - grades meet these requirements due to their excellent properties.
Polyimides for semiconductor production
Alongside its excellent electrical insulation, TECASINT also offers a very low ion content, making it ideal for use in the semiconductor industry and in cleanroom environments, for example in test sockets or in chip and wafer manufacture.
---
Tribological applications: Bearing parts, bushings, washers, piston rings and guiding elements
Hot glass handling parts for the glass industry
Space and aircraft applications
Semiconductor production equipment like IC testsockets
Radiation and chemical resistant sealings for valves
Vacuum equipment parts
Cryogenic parts down to -270 °C
Application examples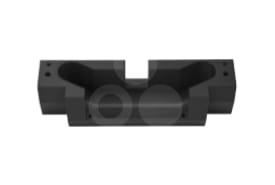 Sensor housing made of TECASINT 5111
Thermal resistance up to 300 °C
Very good electrical insulation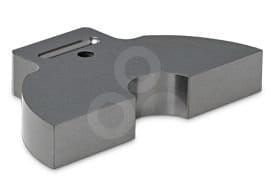 Bottle gripper made from high-temperature polyimide
Polyimides from the TECASINT product family are increasingly used for bottle grippers and transportation discs.
Cost savings due to 3-4 times greater durability compared with conventional materials (such as CFC)
Excellent war resistance
Significant reduction of micro cracks
Low thermal conductivity, good impact resistance and high modulus of elasticity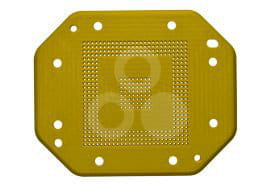 Test socket made of TECASINT 4011 (PI)
Low outgassing
No condensable impurities
High dimensional stability
Thermal resistance up to 300 °C
High strength
Good electrical insulation
---
High quality Rods, Plates and Tubes in various dimensions

Ensinger offers TECASINT polyimide stock shapes as pressed round rods, plates, short pipes and discs in a wide range of dimensions.

We keep a permanent stock of popularly used TECASINT materials, modifications and dimensions. We also manufacture dimensions specifically to customer requirements.
Shapes on stock
Round rods from Ø 6 - 50 mm
(length up to 1.000 mm)
Plate thickness from 6 - 50 mm
(length up to 300 x 1.000 mm)
Short tubes
Shapes on request
Other diameters on request. Maximum thickness up to 100 mm, maximum rod diameter up to 100 mm (type dependant).
---
DIRECT FORMED POLYIMIDE PARTS FOR HIGH VOLUME PRECISION PARTS

Direct forming is a cost effective manufacturing method for producing high volume precision parts. Direct formed Polyimide parts are typically used for applications in the automotive industry or for large quantity production, when machining shapes is too expensive. Fast running presses (mechanical or hydraulic) compact the powder in the mould cavity. The mouldings are then sintered for some hours at high tem­per­a­tures with the exclu­sion of oxygen. The direct forming technique in­volves practically no material waste. In most cases, reworking is also not required.
---

Alongside the manufacture of stock shapes and direct forming parts, the TECASINT materials can be machined with ease. Complex, tight tolerance components can be produced on standard milling machines and turning lathes. For optimal results, specific plastic cutters should be used. TECASINT can be machined in a dry state or with coolant if necessary.
---
Case Study: TECASINT goes to mercury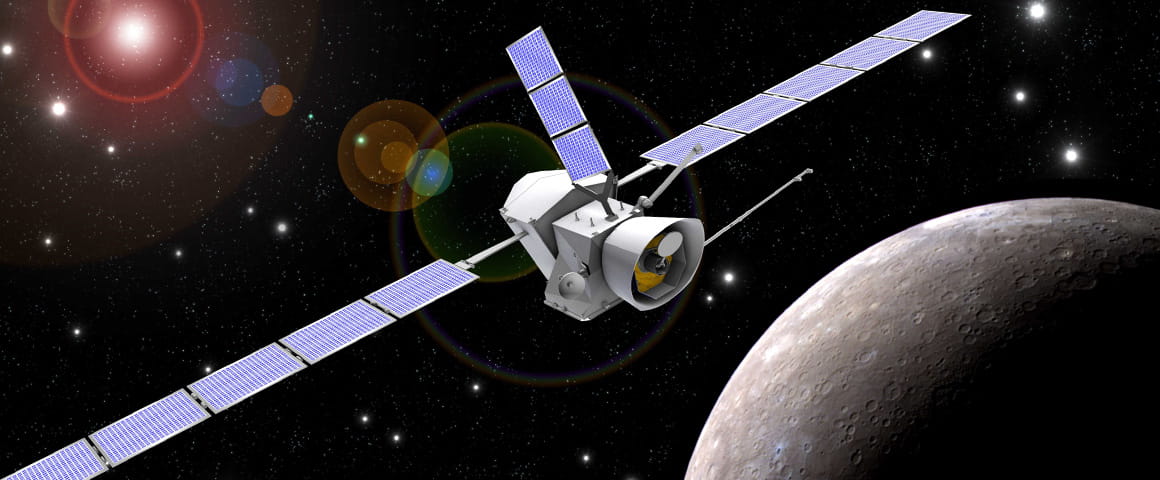 With Bepi Colombo to Mercury
Ensingers TECASINT material is part of Europe's first mission to Mercury with BepiColombo. The spacecraft for the mission are dependent on the function of the thermal control system (TCS), which keeps all the spacecraft's component systems within an acceptable temperature range during every phase of the mission. One part of the TCS is a thermal spacer, which functions as a barrier to high temperatures and radiation. This thermal spacer is a ring shaped plate made of TECASINT.
---
We produce Polyimides in form of semi-finished products and finished parts. Further development of proven production techniques, new applications and international expansion have earned the family-owned Ensinger enterprise a place among the leaders in its field.
Contact us via our contact form, by email or by phone +43 7662 88788 401.