Plastic solutions that meet the high demands of the aerospace industry
At Ensinger we have many years of experience combining technical and commercial understanding, to meet the high demands on materials and solutions for the aerospace industry. Technical and high performance aerospace plastics contribute to making applications more efficient and competitive in many areas of industry.
The characteristics of Ensinger's high-performance and engineering plastic materials meet the technical requirements for many of the systems and subsystems used in today's ultra-modern advanced composite aircraft. The advantages of using lower weight materials for producing fuel efficient and low emission aircraft are clear, but there may also be benefits gained from the longer service life of components. Additionally, our aerospace materials are not affected by corrosion in the aviation operating environment.
The impressive properties of high performance plastics include their low weight and high strength. Significant weight savings can be achieved by switching from aluminum/steel, as many of our high performance polymers have a density of around 1.3 g/cm3 – in comparison, aluminium which has a density of 2.7 g/cm3.
Aircraft material solutions
Working in close cooperation with many of the leading aerospace companies and system manufacturers, Ensinger's team has established an impressive track record over many years as an aerospace supplier, developing optimum high performance plastic solutions, approved for use in the aviation industry. Ensinger's experience in the industry includes working with the industry's preferred Tier 1 suppliers.
Ensinger supplies a vast range of airplane components that are used in aircraft landing gear systems. All of the aircraft manufacturers have chosen to benefit from the use of polymers where alloys were previously used, to a significant extent. We have a wide range of materials that are tested and approved in accordance with aerospace customer's specifications. Furthermore, Ensinger's materials can be tested, certified and approved to meet your specific, exacting requirements – from raw material inspection through to final inspection of the machined or semi finished aerospace components.
Solutions for the space industry
As a supplier to the space industry, Ensinger plastics are specified for many applications. In satellites, parts are used for applications such as solar array deployment systems, cable insulating blocks and platform systems.
Ensinger materials undergo the specific testing required by the end user to meet their arduous requirements for aerospace supply. Typical requirements met by Ensinger materials supplied to the space industry are high strength under severe vibration, low/ultra-low outgassing in vacuum, and resistance to high radiation levels. Ensinger has experience working with companies such as Airbus Defense and Space as well as with several space institutes/universities.
Quality

Global expertise

Lasting solutions

A range to meet your needs
AS/EN 9100 expertise at your disposal
Ensinger operates four machining plants that are certified according to AS/EN 9100: in France, Great Britain, China and USA. These have approvals for various machining processes from leading companies in the aerospace industry.
In addition, common materials such as PEEK, PA, POM, PEI, are specified by well-known OEM and Tier-1 suppliers.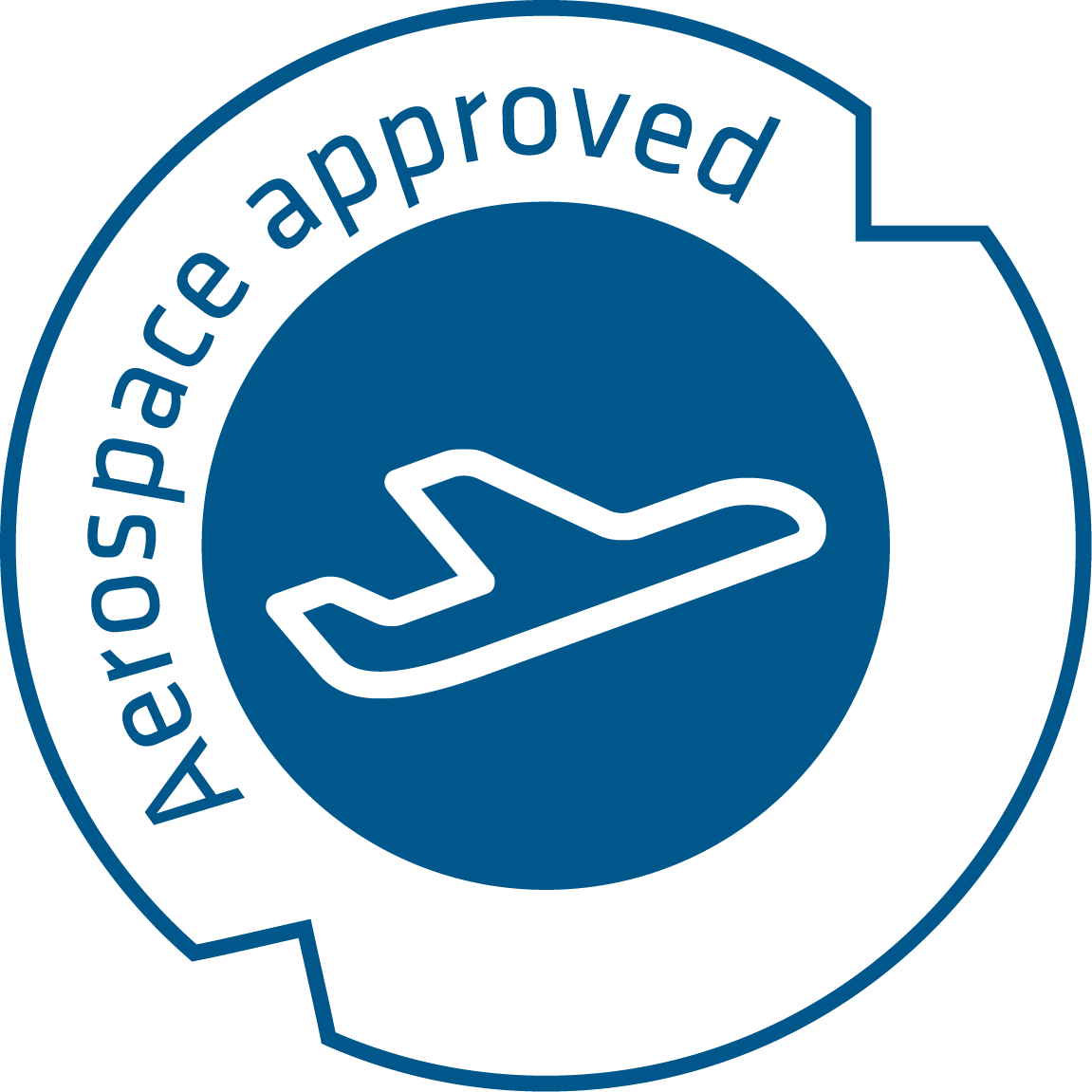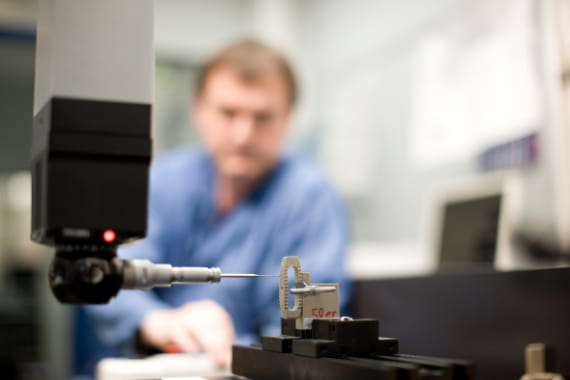 Plug and play
Our global team of highly skilled staff will make sure that your components, however complex, arrive with you fit for purpose.
When the going gets tough
Outdoor applications are exposed to strong weather influences. With a weatherproof and UV resistant plastic material, which can withstand the negative impact of ultra-violet rays, the lifetime of the application is prolonged.
Optimised operating economy
Finished parts do not need additional protective treatment – correctly selected materials are resistant to all of the main greases and fuels used and are not prone to corrosion in the operating environment.

On time in full
Cost-effective in production, because your parts can be manufactured from readily available stock, which are produced commercially in high volumes, with short lead times.
Plastics for aircraft interior applications
Our portfolio of aerospace plastics contains materials that meet fire behaviour standards in accordance with FAR 25.853. Our plastics are constantly tested for flammability, smoke and toxicity. Many materials are suitable for cabin interior applications.
Strong materials
When selecting aerospace plastics, specific strength is a key indicator for high mechanical performance materials. This determines the tensile strength of a material relative to its density and indicates the strength-to-weight ratio.
Radiation resistant plastics
Depending on their field of application, plastics may come into contact with different types of radiation. Applications such as outer plane covers or satellite parts are examples of applications where radiation resistance is important.
Electrically insulating materials
For aerospace plastics used in propulsion elements, control units or landing gears, good electrically insulating properties are essential.
Conductive plastics
Dissipation of electrostatic charge is essential for aerospace applications where highly sensitive electronic components are present.

Heat resistant plastics
Many aerospace plastic applications require thermally resistant materials, which at the same time have a good resistance to ageing.

Low outgassing plastics
Outgassing characteristics are very important when choosing materials in space applications where they will be subjected to a vacuum.

---
Finished and semi-finished parts FOR Aerospace
Finished parts

Injection moulding

Profiles and tubes

Composites

Additive manufacturing

Sintered plastics
The complex machined parts for aerospace are produced in four Ensinger branches. They comply with precise standards concerning tolerances and surface finish. The companies in France, Great Britain, China and USA are certified according to AS/EN 9100.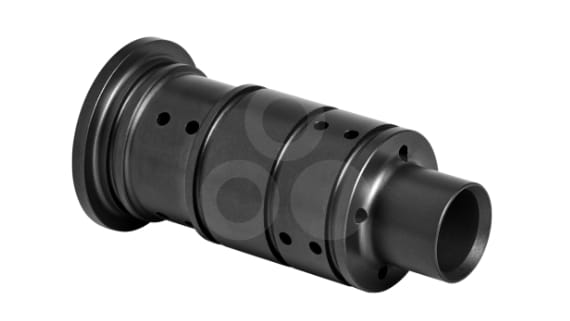 For the aerospace industry the Ensinger injection moulding branches produce demanding precision parts and complete assemblies. In addition to insert and overmoulding, multi-component injection moulding is becoming increasingly important.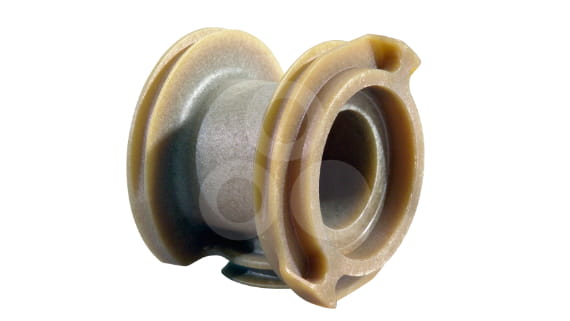 Thermoplastic profiles and tubes are produced in our headquarter in Germany. They are applied in many different places from cabin interiors to solutions for structural components.

For structural and semi-structural aerospace parts matrix materials such as PEEK, PEI and PPS are used for composites. Based on this the production of geometric complex parts is possible. The know-how of Ensinger opens up new opportunities in parts' design e.g. for clamps, cleats, leading edges and interior parts.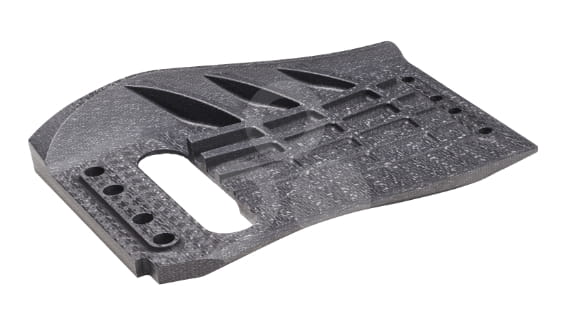 In the filaments you find the whole Ensinger expertise: from the compounds, which can be adjusted to customer requirements to the production of the filaments.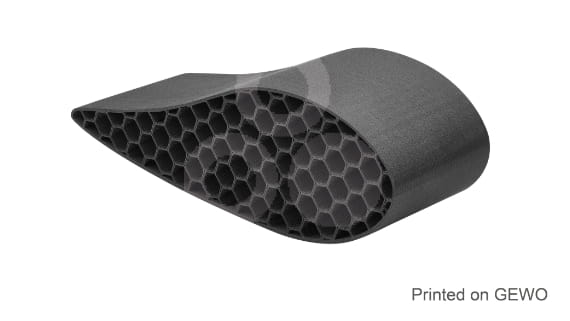 Strength, dimensional stability and creep resistance of parts made from TECASINT remain stable under extended mechanical strain and long service. High purity and low outgassing are more advantages of the non-meltable polyimides.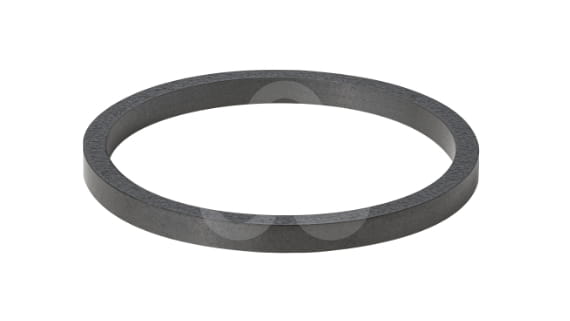 ---
Stock shapes for Aerospace
Machinable plastics which are being used in aircrafts and aerospace must satisfy the detailed requirements of end customers and system suppliers in order to minimise the risks. Different requirements for the materials, like thermal and mechanical properites, density or flammability, apply to different areas of applications. Material specifications are thus developed individually.

Many of our materials are validated by leading aircraft manufacturers:
---
Applications in Aerostructure
Lightweight aerospace materials solutions to get carbon free
Thermoplastics offer lightweight solutions wherever applications demand good mechanical properties combined with resistance against stress and chemicals, oils and greases. Ensinger offers thermoplastic polymers with these properties as compounds, rods, tubes and plates or as finished parts.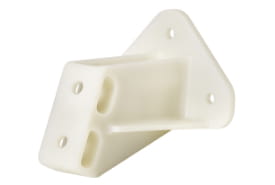 Electrical bracket in the structure area
made from TECAMID 66 GF35 natural.
Very stiff
Good heat deflection temperature
Resistant to many oils, greases and fuels
Good wear properties
Very good strength
High dimensional stability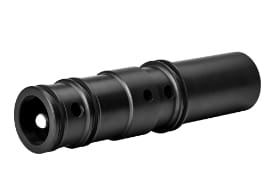 Lube spool made from TECAFORM AD black
Delrin was selected because of the excellent properties:
Light weight
Good chemical resistance to aviation oils, greases and fuels
Excellent corrosion resistance
Good strength
Good machinability
Long service life
Steering cylinder made from TECAPEEK PVX black
Steering Cylinder in an landing gear system
Light weight
Inherent flame retardant
Good heat deflection temperature
Very good chemical resistance
Good slide and wear properties
High creep resistance
---
Applications in Interiors
FAR 25.853 tested and flame resistant aircraft plastics
Lighting, seats, galleys or cockpit equipment: Ensinger plastics has a large portfolio to meet the requirements asked for in aircraft interior applications. The materials are "ready for use" and thus new designs or design improvements are possible for all kinds of aircrafts.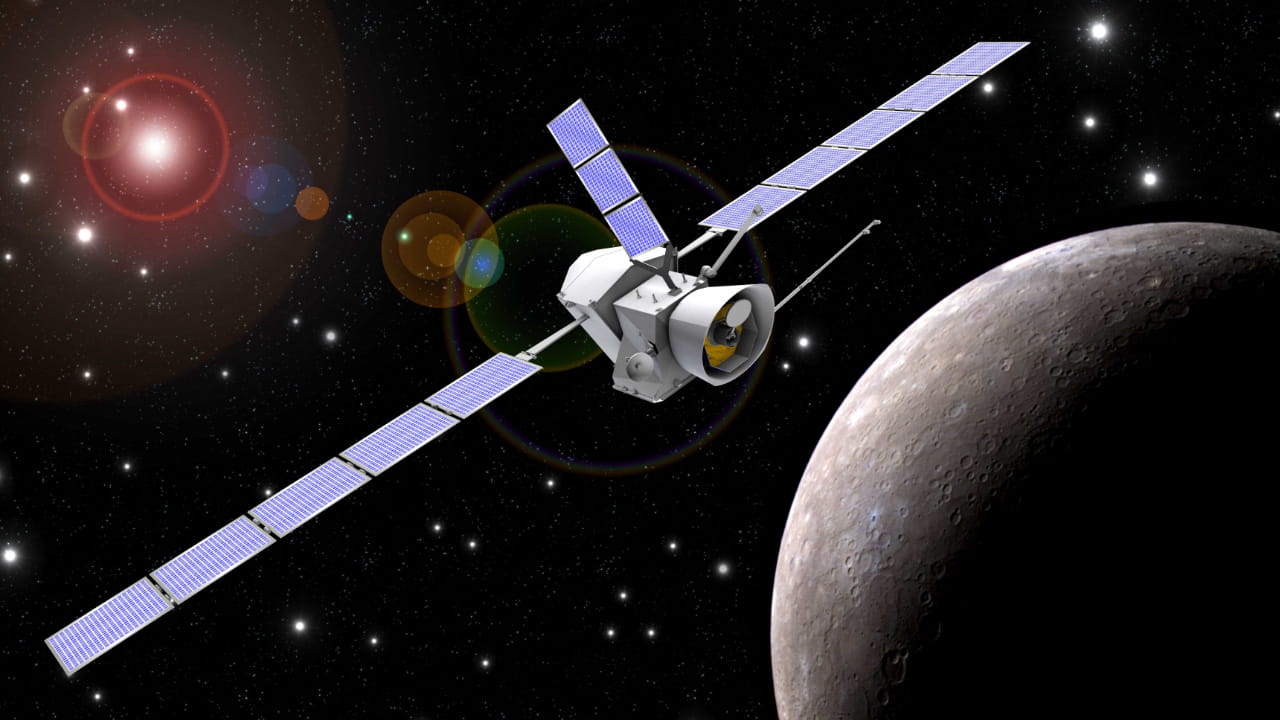 With Bepi Colombo to Mercury
Ensingers TECASINT material is part of Europe's first mission to Mercury with BepiColombo. The spacecraft for the mission are dependent on the function of the thermal control system (TCS), which keeps all the spacecraft's component systems within an acceptable temperature range during every phase of the mission. One part of the TCS is a thermal spacer, which functions as a barrier to high temperatures and radiation. This thermal spacer is a ring shaped plate made of TECASINT.
LED heat sink made from thermally conductive PPS
LED chips must be placed on a heat sink, which is often made of Aluminium. Replacing the aluminium heat sinks with thermally conductive plastic profiles reduces weight and life cycle costs. Plastic profiles don't need corrosion protection and no grounding.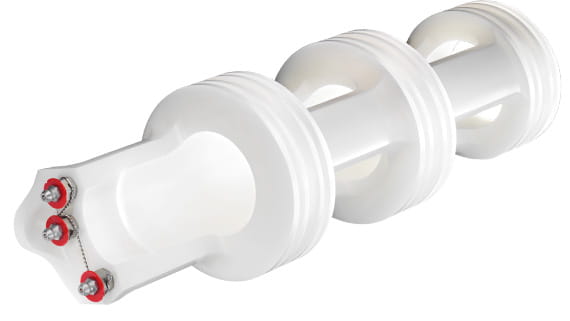 Cost-efficient greasing of your landing gear
Aircraft landing gear supports the entire weight of an aircraft during landing and ground operations. All of the articulating struts and rods in the landing gear require lubrication to ensure safe operation. Grease is retained in each of these articulating struts and rods by the greaser plug made of TECAFORM AD (POM-H) from Ensinger.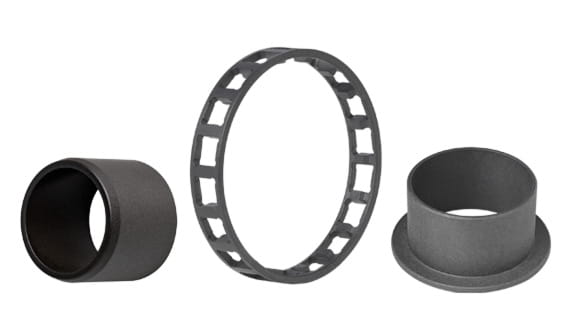 Safe braking with modified PEEK
In modern passenger aircraft, the use of electric braking systems is considered to reduce maintenance and improve reliability.The engineering challenges to manufacturing these new systems require the Polymers used to have greater wear and load-bearing properties. These properties are met by TECAPEEK PVX.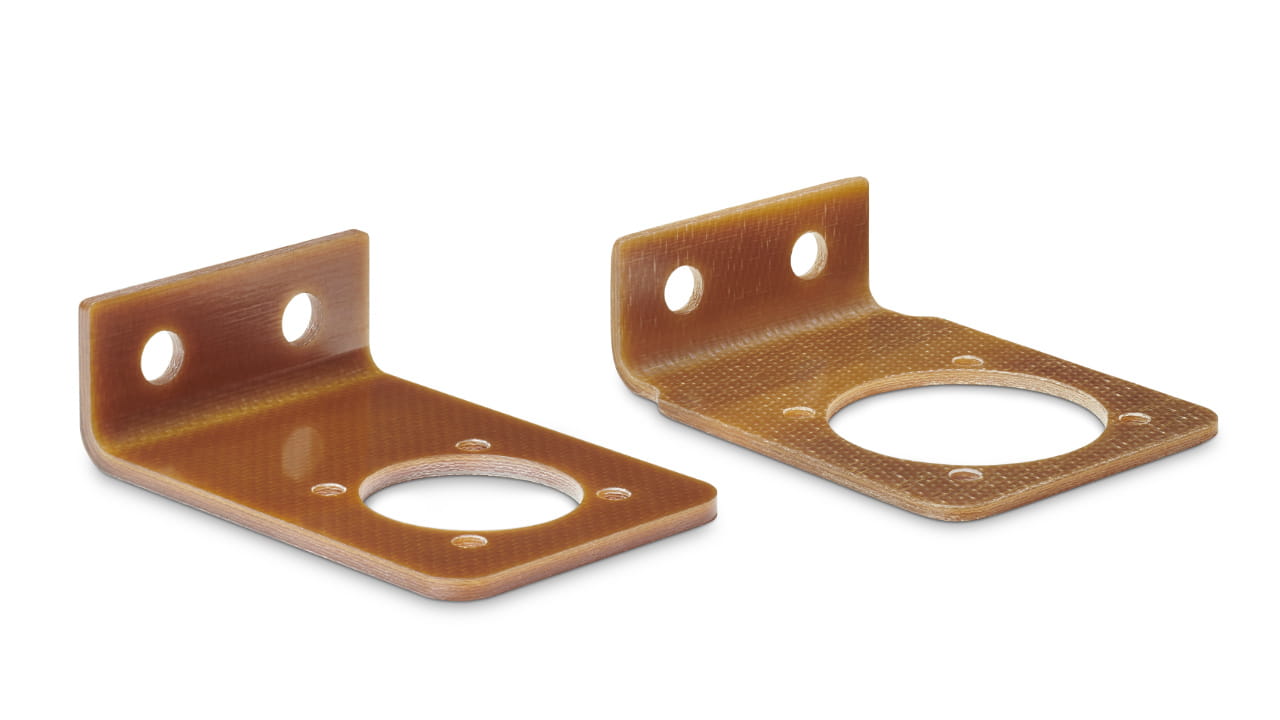 Mountings for electrical plug-in connections
Lightweight and high-strength materials have become indispensable for high-end applications in the aviation industry. A pre-preg approved for the aviation industry with glass fibre and a PEI matrix (polyether imide) was chosen for as a substitute to metal for mountings for electrical plug-in connections.
---
VISIT US AT FAIRS AND EVENTS
---
You can reach us by our contact form or by phone +49 7032 819 643.
---
Frequently Asked Questions on Aerospace Plastic Material
Does Ensinger provide materials with specific fire behaviour?

Our product portfolio includes materials with specific fire behaviour, verified by relevant testing. Find out more:

What is the meaning of risk classification to Class I, II and III, and what impact does it have?

Generally speaking, the classification impacts on the processes used for component approval. This is set out in the basic Regulation 216/2008 under CS - 25: which has been adopted from the FAA. The POA holder (manufacturing company) is responsible for component classification. Here, classification and the necessary agreements / notifications must take place at the Aviation Agency.

Do regulations exist for semi-finished part and component suppliers?

Statutory regulations only apply to aviation approved corporations. Requirements imposed on subcontractors are generally regulated by means of contractual agreement.

What is the difference between the FAA and the EASA?

As a result of bilateral agreements, the two organizations are virtually identical. The American FAA regulation is considered to be the global leader.

For more information on the European Aviation Safety Agency, visit: www.easa.europa.eu

Which statutory regulations are we equipped to adhere to?

Only the contractual rulings between the manufacturing company and supplier have to be adhered to for aviation-specific applications.

​Does a duty to notify exist on the part of the customer in the event of statutory changes?

Statutory regulations only apply to aviation-approved corporations. All other points have to be regulated in supply agreements. Consequently, the customer is required to inform its supplier of a change to the requirements by amending the supply agreements. There is no explicit duty of notification on the part of the customer. However, where applicable, the customer is required to adjust its specifications / supply agreements with the supplier.

Where can I find the relevant information?

The European Aviation Safety Agency and the Society of Aerospace Engineers offer additional useful information on their websites: European Aviation Safety Agency

and Society of Aerospace Engineers.