Plastic solutions for the medical industry
The Ensinger One Stop Shop
Facing new challenges
The major trends in the medical industry such as ageing patients and their mobility needs, as well as younger peoples' desire for a pain-free life, are resulting in an increase in surgical procedures as well as new treatment options.This is leading to greater prices and added cost pressures in the health systems and for medical product manufacturers.

The requirement to carry out unannounced audits, a tightening in clinical assessments, as well as additional testing procedures for certain medical products belonging to higher categories, are designed to enhance patient safety. This includes increased consideration of physiological safety even with short-term patient contacts, which leads to further emphasis on the product safety requirements.

For the manufacturers of medical products, this will mean the development of new, innovative products under the premises of
product safety, patient benefits and cost control in future.
More than one solution...
Ensinger helps to meet these requirements by supporting medical product manufacturers in creating product solutions with alternative, but tried and tested, materials and process technologies.

The wide range of Ensinger medical grade materials (MT) offers product designers a wide choice of options to develop innovative medical products, which provide a high degree of safety and added value. The different manufacturing methods used by Ensinger such as extrusion, machining, injection moulding, profile extrusion and compounding, offer the customer a versatile selection of plastics to develop and produce their product together with Ensinger along the value added chain.
Ensinger offers high compliance standards for all medical grade materials (MT) regarding documentation, traceability and change notification. These information enable an experienced know how and data transfer to authorities for the approval of products worldwide.
The safety of patients comes first, both for the selection of physiological harmless materials as well as for the testing on biocompatible properties of Ensinger Medical Grade (MT) products.
---
Benefits FOR THE Medical Industry
Quality management system

Global expertise

Traceability

Compliance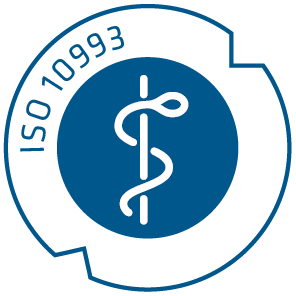 Certified according to DIN EN ISO 13485:2016
Ensinger GmbH has introduced a quality management system in accordance with DIN EN ISO 13485:2016 for the development, manufacture and sale of semi-finished products, profiles, finished parts and compounds made of thermoplastic materials. With this accredited quality management system for medical technology, Ensinger provides its customers with additional safety.
Decades of experience 
Experience in the medical industry help to develop the optimal solution for our customers from product design, through to manufacture.
Medical experts across the globe
Thanks to the global presence of the Ensinger medical industrial segment team, our customers on all continents benefit from our high quality solutions.
Order-related and consistent
Due to the strict documentation during the individual process steps, consistent traceability is standard at Ensinger. For this reason, Ensinger always issues the corresponding conformities for all medical grade (MT) materials on an order-related basis, thus ensuring traceability down to the raw materials.
Reliable change notification
Ensinger keeps a change notification for its medical grade (MT) materials. In this way, the customers always receive comparable, approved material for their medical applications or are informed in good time about relevant changes as part of the change management process.
---
Solutions for THE MeDIcal industry
Biocompatible plastics
Ensinger Medical Grade (MT) semi finished plastics are generally tested according to ISO 10993 for their intended use on stock shapes and fulfill the specific requirements of the particular testing.
Sterilisation resistant plastics
Many medical products such as surgical instruments are used again after being intensively cleaned, disinfected and sterilised. Ensinger medical grade (MT) materials have good chemical resistance as well as excellent sterilisation resistance to the commonly used methods.
X-ray opaque plastics
In many procedures, X-ray images help to exactly position the medical product, e.g. trial implants for a joint replacement operation. The Ensinger medical grade (MT) portfolio, therefore, has special X-ray impermeable XRO types in the range, which enable an exact view of the instruments during image-guided surgical procedures.
Low density plastics
The growing number of medical operations and procedures require increasingly effective instruments that are also easy to handle. The Ensinger medical grade (MT) materials have a low specific weight, resulting in significant weight savings in comparison to metal instruments.
Coloured plastics
In the face of global competition, differentiation through coloured corporate branding is increasingly important. Different versions or sizes of medical products are also increasingly differentiated by a corresponding colour scheme. Ensinger's medical grade (MT) portfolio covers a range of materials with a number of different colours.

---
Machinable Plastics for Medical USE
We offer a wide spectrum of engineering and high performance materials for medical applications. All MT plastics (medical grades) are tested in accordance with ISO 10993 and follow the step-by-step approach stipulated in the standard for biological risk assessment.
PEEK medical grade

Composite PEEK medical grade

PPSU medical grade

PP medical grade

PCT-G medical grade

---
Medical Technology CASE STUDIES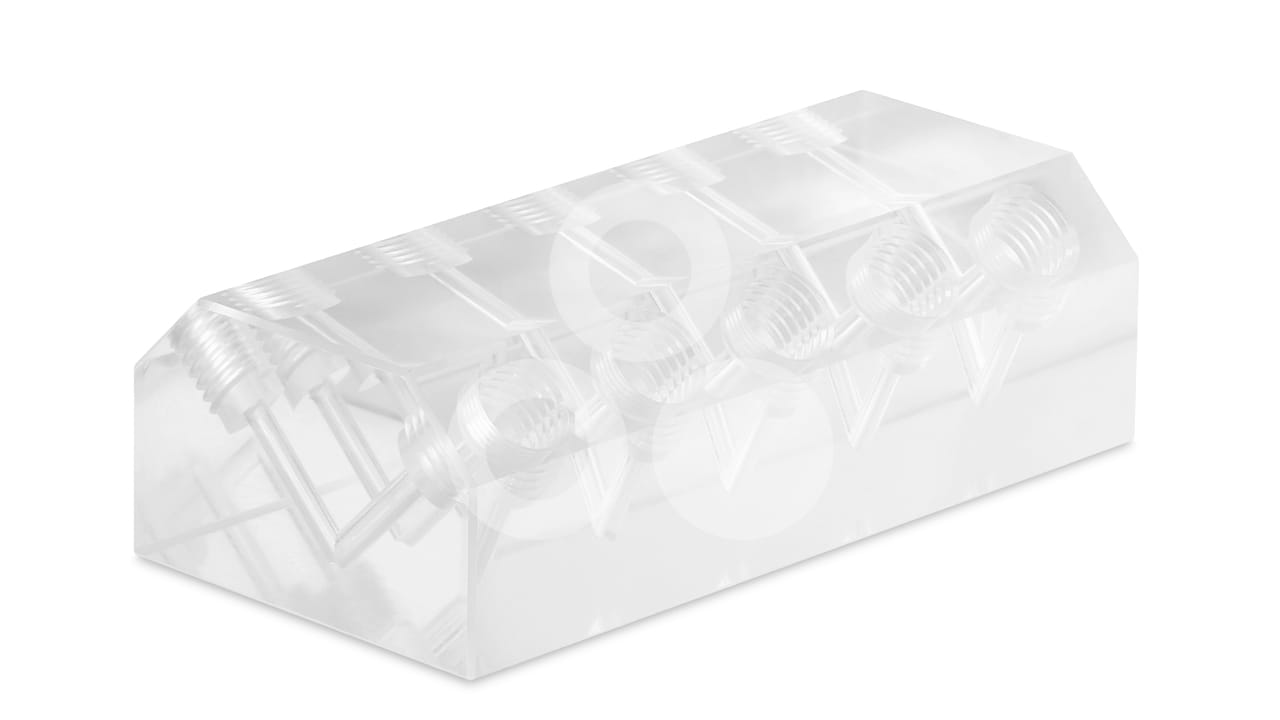 Manifold Block in bioprocessing
In the manufacture of chemical fluid handling equipment, it is often necessary to machine parts that act as junctions between components in the fluid handling system in order to regulate fluid flow. Ideally they are transparent in order to verify fluid flow. They must have excellent chemical resistance, so as to not modify or introduce any leachable compound or chemical into the fluids they are handling.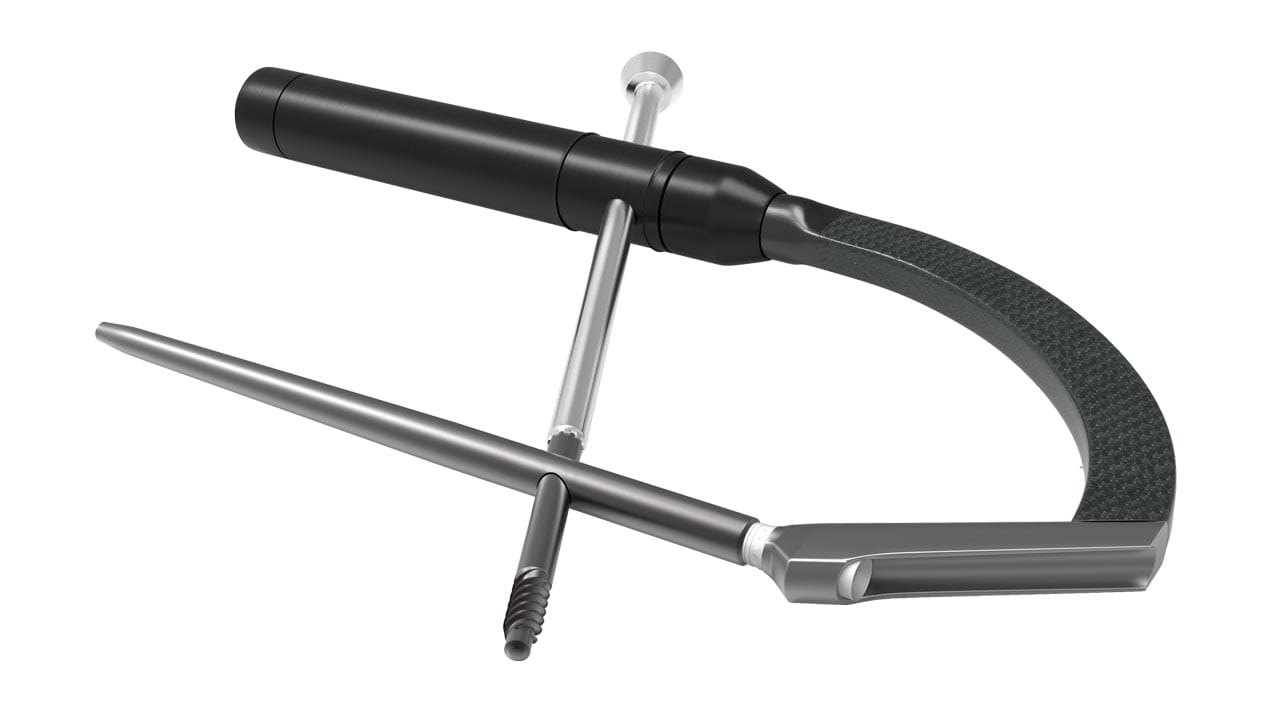 Orthopaedic Trauma Internal Fixation Systems
The goal of orthopaedic trauma treatment is to restore a broken bone to its correct position and orientation. When this is done by means of surgical intervention, fixation systems are used to secure the bone in the anatomically correct position. Manufacturers of such internal fixation systems need to meet many and exacting requirements in terms of function, weight and appearance, at the same time as keeping an eye on the overall costs in view of increasingly tight budgets.
Surgical caddies
Trays and caddies for transporting and storing surgical instruments, as well as those for screws and other implants are subject to stringent requirements such as easy transport through the sterile supply cycle and long product service life. On the basis of these requirements, the materials TECAPRO MT (PP) and TECASON P MT (PPSU) are an optimum solution.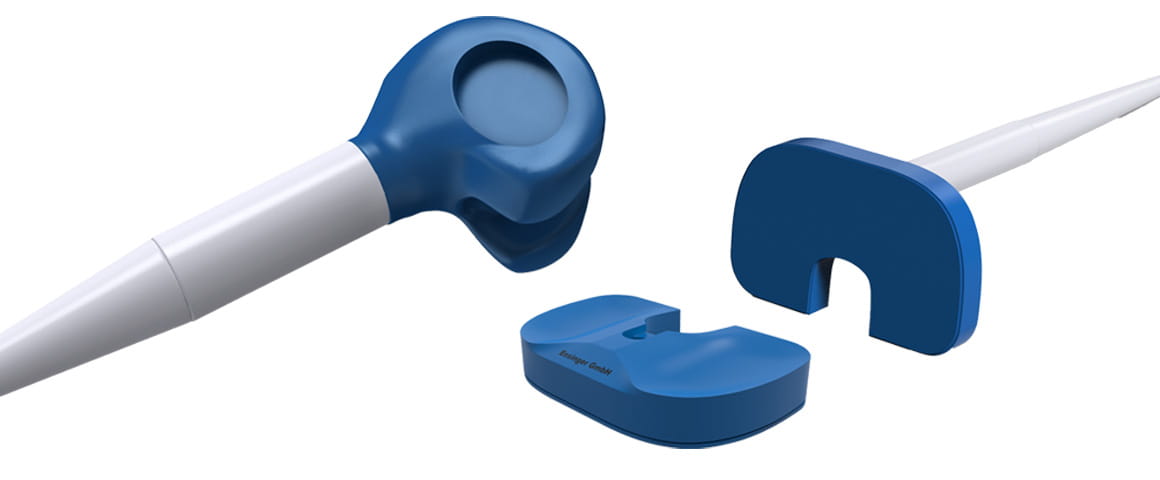 Test Implants for Knee Joint Reconstruction
Manufacturers of knee reconstruction products are now in a global market for sales and customers. Apart from the actual implant, tools and instruments are of increasing importance. These facilitate handling during the operation, enhance patient safety and may even reduce the follow-up expenses for reprocessing. These instruments include test implants, which sometimes serve to differentiate products from the competitors.
---
Frequently Asked Questions on MEdcial Plastic Material
Which biocompatibility tests are necessary for semi-finished products for my application?

Generally speaking, no biocompatibility tests are required for semi-finished products for a particular application, as the finished components have to be tested and approved at the end of the processing steps.

However, qualification of semi-finished products does provide an aid to ensuring product quality and subsequent approval of the final medical product.

 

Can I use Ensinger MT materials as implants?

These materials are not generally speaking suitable for use as long-term implants. In principle, all MT materials from the Ensinger portfolio are approved for direct body contact for up to 24 hours. One exception to this is the material TECAPEEK MT CLASSIXTM, which is approved for direct body contact as a temporary implant for up to 30 days or 180 days.

Are MT materials produced by Ensinger fully traceable?

Using a coding system for its semi-finished products and by means of order-specific certificates, Ensinger ensures the capture and documentation of all product and process data and consequently traceability back to the original material. In this process, all integrated procedures are included - from the raw material to the used finished part. In the unlikely case of a claim, this allows the possible fault to be quickly localized.

What does the suffix "similar to RAL" mean in connection with the colour designation?

By processing the plastic materials to create semi-finished products, it is not possible to directly match specific RAL colours. Certain deviations can occur for production-related reasons. For this  reason, it is only possible to provide a colour indication which is similar to RAL.

Does the coding ink influence the physiological properties of a plastic?

Semi-finished products marked with coding ink have been tested in accordance with ISO 10993-5. During this testing process, all inks used are tested. The results show that all sections comply with the requirements of ISO 10993-5 and are consequently physiologically harmless.