Plastic material solutions for the semiconductor industry
Of all the industries in which engineering plastics can help engineers solve design problems, none is more challenging than the semiconductor industry. Our semiconductor industry plastics are designed with the industry's often rigid and demanding environmental concerns in mind. In addition to this, our semiconductor industry specialists work directly with engineers to understand the unique challenges associated with every aspect of the semiconductor manufacturing process - from the beginning of the wafer processing cycle, through chip processing and handling, to packaging.
Each stage of the process offers its own set of difficulties, from extremely high temperatures, to exposure to highly aggressive chemicals, contact with abrasive solvents and environments of plasma under a vacuum. Ensinger has a plastic semiconductor solution to suit every environment and meets the strictest requirements for design and machining tolerance, outgassing, and contamination specifications. Our design solutions cost less than traditional materials, such as ceramics or quartz, and are generally much easier to work with.
---
Benefits FOR THE Semiconductor industry
Competences

Product range

Presence

Service

Suppliers
Extensive product range, engineering support and testing capabilities
Manufacturing and process flexibility ranging from compression molding for short run parts or concept testing to extrusion for medium run machined parts, and even including injection molding capabilities for high volume parts to help engineers meet rapidly changing industry needs and technology advances
Global presence with manufacturing capabilities in North and South America, Europe, and Asia.
Customer specific, industry and government agency compliance expertise
Strategic vendor alliances with premier resin suppliers worldwide
---
Solutions for THE Semiconductor Industry
Special materials for CMP
The Chemical Mechanical Planarization (CMP) process is one of the key steps in silicone wafer production. Ensinger offers a number of solutions to suit this process, which can vary greatly from one equipment manufacturer to another.

Low outgassing plastics
For certain industries such as semiconductors, aircraft and energy, there are strict requirements for the purity of plastics with regard to outgassing and the presence of ionic purities. Ensinger offers plastics with these requirements.
High temperature plastics
High temperature plastics are under constant development and are becoming increasingly common in high-end semiconductor applications due to chip designs becoming ever more complex, thus requiring long-term resistance to high temperature exposure.
ESD plastics
Unmodified plastics are generally electrically insulating, but thermoplastics such as PEEK and Acetal can be modified to provide a range of electrically conductive, anti-static or static dissipative properties. These characteristics are important for semiconductor applications such as back-end test sockets.

Chemical resistance
Chemical compatibility, chemical resistance, and corrosion resistance are among the greatest advantages of plastics when compared to metals, and can be especially important to semiconductor end users, who use a variety of chemicals in various stages of the chip manufacturing process.
---
Machinable Plastics for THE Semiconductor Industry
Other materials for semiconductor industry:
---
Semiconductor Industry CASE STUDIES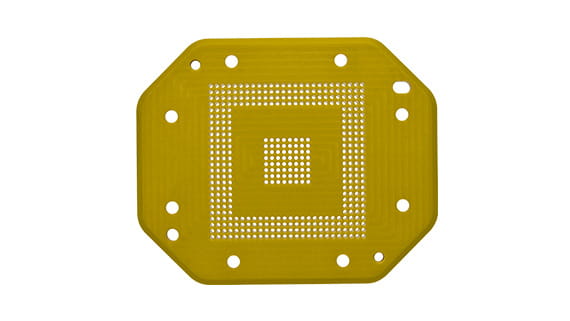 A combination of a great variety and the same time characteristics
In the microchip manufacturing process it is important to test the chips under various conditions to ensure specific functionalities as well as durability. Different test sockets are used to test different microchips, as specified by integrated circuit designers. Substantially, different engineering plastic materials are used to make different test sockets and demand for high-performance plastic continues to grow rapidly.