Compliant material solutions for the food industry
Producing food grade plastic compliant with the stringent requirements of FDA (Food and Drug Administration) and European Food Contact regulations is a key requirement for thermoplastics machining operators in this field. For the Chinese market the China GB standards have to be considered. With our standard engineering thermoplastic portfolio, we also offer a special portfolio of food contact materials, which meet the specific demands of food technology in terms of safety and performance.

Ensinger provides its compliant materials with a product specific food contact certificate, declaring FDA approval for raw material, compliance with Regulation (EC) 1935/2004, (EU) 10/2011 (migration test for plastic semi-finished products) as well as (EC) 2023/2006 on good manufacturing practice (GMP) for materials and articles intended to come into contact with food. For the Chinese Food market we offer declarations according to China GB standards GB 4806.1-2016 as well as GB 4806.6-2012 (positiv list for resins) and GB 9685-2016 (for additives).

Thanks to their light weight and easy-to-machine properties, food grade materials can replace metals in a variety of applications in plant and machinery for meat, fish and poultry processing, dairy products, baked goods and confectionery production. Ensinger's food contact materials enhance production, speed and safety in the manufacturing process.

We also offer special plastics for the most common detection methods. As an alternative to conventional plastics, our portfolio includes blue materials for optical detection and plastics with multiple uses. These include our blue metal detectable products as well as metal and X-ray detectable materials for direct food contacts. We offer all these products in blue as standard. This increases safety during processing and also reduces costs.

Our technical office can assist you in choosing the most appropriate materials for your food contact plastics application, including the development of new materials
---
Benefits FOR THE Food Industry
Food contact compliant plastics

Food technology

Lightweight components

No lubrication required

Resistant to cleaning agents

Detectability to avoid contamination
Ensinger can provide food contact compliant plastics, which meet stringent quality and security requirements on production safety, seamless traceability and product certifications. The food portfolio includes materials compliant with FDA, EU 10/2011 and GB 4806.1-2016 regulations. Other regulations available on request.


Scrapers, valves and pistons, chain guiders, bushings, rollers, thrust washers, gear wheels, grippers, sliding bearings etc. these are only a few applications in food processing and packaging industry. As much as the applications can vary so, do the requirements, however, they all operate in a sensitive environment. Therefore, we offer a wide range of engineering and high performance plastics for various applications with or without food contact compliance.
When replacing metals, one of the main factors to consider is the possibility of a more lightweight component, thanks to the use of plastics. For food technology, this could mean increased processing velocity and production efficiency.

When replacing components or sliding parts in metal with plastics, you can normally remove external lubrication, thus avoiding the risk of contamination of the food with oils or greases. Ensinger provides food contact plastic compliant with stringent quality and security demands on production safety, seamless traceability and product certifications.
Choosing the right plastics for your food components which are regularly cleaned, sanitized or sterilized, means there is no need for additional protection against corrosion, as is normally required with metals (e.g. painting, surface treatment or selection of expensive special alloys). All of the Ensinger food grade plastics are resistant to cleaning agents to ensure the reusability and safety of components. In addition, the cleanliness of components can be more readily determined thanks to the use of blue materials, because spores, molds, food and detergent residues are more clearly visible by contrast than they would be with other coloured materials.

In food processing lines, identifying possible fragments of plastic is a crucial function. Blue material for food contact and metal or x-ray detectable plastics in our portfolio can enhance the safety of food production processes, in full compliance with international regulations to control and limit possible migration of substances from the material to the food, to avoid any harmful influence.
Unlike other coloured materials blue plastics enure high visibility by contrast and therefore rapid in-line identification. In addition all food grade plastics from the ID series are produced by adding an additive that is detectable using metal detectors. Furthermore, our UD materials are modified with special additives that ensure both, metal and X-ray detectability. These plastics fully comply for contact with food in order to avoid contamination.

---
Solutions for THE Food Industry
Food safe materials
Materials compliant with FDA approval for raw material, regulation (EC) 1935/2004, (EU) 10/2011 as well as (EC) 2023/2006 and seamless traceability.
Metal detectable plastics
On food processing lines equipped with metal detectors, our detectable "ID/UD" materials can be used for greater control.

Blue materials for food
Blue is widely used in the food industry for high visibility (optical detection), easy component cleanliness and rapid in-line identification of plastic contamination in food.

Ultradetectable plastics
Plastics in food industry applications often require great versatility especially as it relates to the different methods that are used to detect unwanted particles in the food zone. Ensinger's Ultra detectable (UD) products are designed to be visible to the three most commonly used in-line particle detection systems, Optical, Metal and X-ray detectors.
Chemical resistant plastics
Harsh chemicals are used to clean food processing equipment. To ensure that food contact plastics can withstand the anticipated conditions, an overview of their chemical resistance is provided.

Materials for sliding and friction
As food processing often involves moving products or packaging, the sliding or friction behaviour of food contact plastics is an important characteristic.
---
Machinable Plastics for The Food Industry
Ensinger provides food contact plastics compliant with stringent quality and safety requirements on production safety, seamless traceability and product certifications such as the following:
---
Food Industry CASE STUDIES

Needleblock for meat processing
Not only the components which come into direct contact with food should be made of materials which comply with food contact regulations. This block is a component of a fully automated system developed to enhance flavour and shelf life by saline injection using needles, so safety is an important requirement.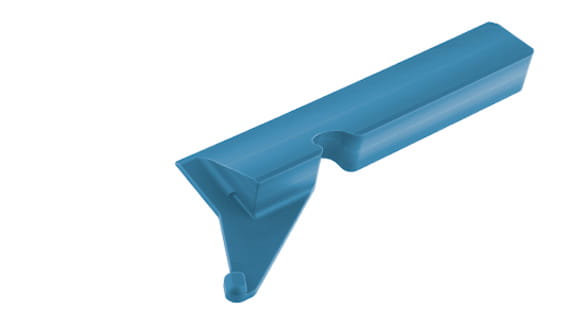 Food Scraper in safety with POM-C detectable
In the food industry, most filling machines use a scraper in the funnel to ensure a constant flow of the food. In this component for meat or sausage meat, the customer was used to making the scraper of TECAFORM AH natural, an acetal food grade, but decided to change to using TECAFORM AH ID blue in order to improve detection of any plastic contamination in food.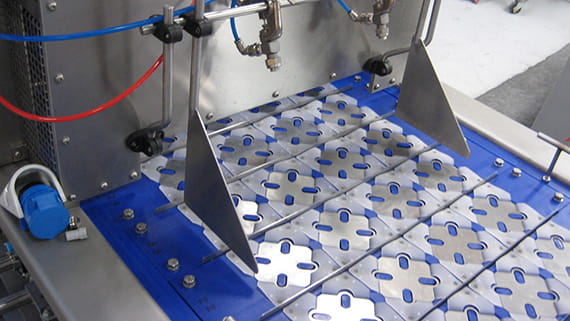 Bakery machine equipment branded and safe
The Danish company Form & Frys manufactures standard machines as well as custom-built machines designed for the bakery industry. For their machines, the company choose TECAFORM AH blue, which could stand out colour-wise, both to brand the company, but also to ensure quick detection of any plastic in the food during the production process.
---
Frequently Asked Questions on Food Plastic Material
​Do external changes in colour due to storage or environmental influences have a negative impact on the semi-finished product?

Semi-finished products or cut blanks are produced with plus tolerances in accordance with DIN so that the outer shell and consequently any discolouration or scuffing can be removed without fail during finished part production. 

How is consumer protection safeguarded for plastics which come into contact with food?

The main objective is to exclude negative

reciprocal impact between the plastic component

and the contacted foods in the form

of organoleptic,

colour

related and primarily

toxic effects.

Seamlessly applied declarations of conformity

at every manufacturing level are key tools in

the assurance of food safety. Added to this are

traceability data using the methods of good

manufacturing practice (GMP) implemented

in quality assurance systems with verifiable

documentation of product and process data.

Does Ensinger supply material in accordance with FDA and other US regualtions?

Ensinger semi-finished plastics for food industry are compliant to directives for raw material approval of FDA regulations. Read more about FDA and Ensinger products.

Why do end customers bear final responsibility for the declaration of conformity?

Plastic stock shapes are not finished products with a final defined purpose and geometry as specified by the regulations. Final testing for the specific application requires knowledge of all application conditions. Influencing factors include the contact medium, contact time, and temperature and cleaning conditions. Consequently, no definitive and final assessment of migration values can be carried out on the component by the stock shapes supplier. This task remains the responsibility of the plant manufacturer or operator, on the basis of the migration limit information provided.

Can I get conformity declarations for plastics with direct food contact?

Ensinger semi-finished plastics designed for food industry are manufactured in compliance with Reg. (EU) No 10/2011 and FDA approval for raw material. Find out more:

Are drinking water regulations covered by declarations on food contact?

Drinking water is monitored in accordance with special regulations not internationally standardized at present. See more in our

FAQs

section.

Why is Ensinger unable to take responsibility for final testing for suitability in contact with foods on behalf of customers?

In this context, Ensinger is a supplier of semi-finished products which have no use-specific finished part geometry. Following additional processing steps to become a finished part, final inspection must be carried out on the premises of the company which distributes the end product, taking into consideration the final component design. Testing on the semi-finished product can do no more than providing an indication. It does not reflect the final status of the product (such as its surface quality). 

How are simulants assigned to foods in accordance with EU Regulation No. 10/2011?

Food simulants conforming to a certain food category are selected in accordance with table 2 in Annex III of the regulation. Testing the migration value in food simulants A, B and D2 (or where applicable using substitute simulants), includes all kinds of foods. This also encompasses foods for which the simulants C, D1 and E are assigned where applicable in table 2. 

Does Ensinger guarantee material traceability?

Thanks to a specific traceability method Ensinger is able to determine and trace the complete process chain of its semi-finished materials. Find out more:

​How can products be unambiguously identified?

To ensure that products cannot be confused or mistaken, a product code is imprinted on them which contains the product name, article number and production batch. 

Does the coding ink have a negative impact on its use in contact with foods?

The coding ink and coloured printing inks are tested and are verified as physiologically harmless.