Thermal plastic solutions for the building sector
Ensinger is a world leader in the development and production of thermal insulation profiles for window, door and facade construction. insulbar® thermal insulation profiles create a thermal barrier between the inner and outer shells of a metal frame.
The use of insulbar® saves home owners and developers energy and heating costs due to effective thermal insulation without compromising on quality, individuality or durability. At the same time, system manufacturers, metalworkers and window producers benefit from outstanding processing convenience, an extensive standard range and custom tailored individual profiles.
---
Advantages for the building sector
All round support

Profitability

Sustainability
Optimal advice – excellent support
Application engineering-related advice, from the choice of material and geometry through handling, logistics and processing to the application of insulbar® insulating profiles is a key element of our core competence. It goes without saying that we are there to support you with any issues relating to development, design or quality management. We will also produce individual sample profiles on request and also train your staff on all aspects of insulbar® if needed.
Cost-saving and profitable
The effective insulating effect of the profiles allows house owners to save heating costs in winter and remain cool economically during the summer. Tested quality and a long service life prevent complaints and supplementary costs during the warranty period of the end products.
Eco-friendly, sustainable and future-proof
Thanks to a good insulating effect and thermal insulation insulbar® helps reduce the need for heating and cooling and therefore make a major contribution towards reduced carbon emissions. The long service life of our products also helps to conserve the environment.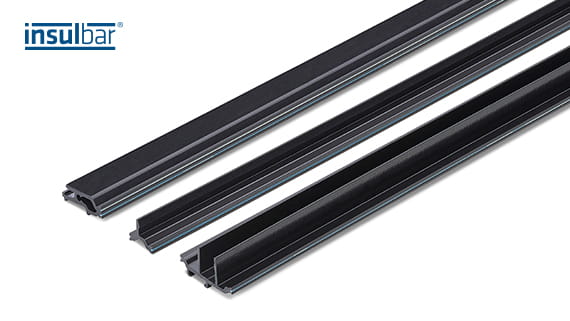 insulbar® insulation profiles for metal windows, doors and facades
Ensinger, credited with being the inventor of the plastic thermal insulating bar has developed and produced insulation profiles for system manufacturers, metal and window processors for 40 years. insulbar® is synonymous with premium quality insulating profiles which are used for the thermal separation of aluminium profiles from the outer and inner shell of window, door and facade constructions. Our insulation profiles are extremely efficient at preventing energy losses in buildings and enable outstanding Uf values up to conformance with the stringent passive house standard.