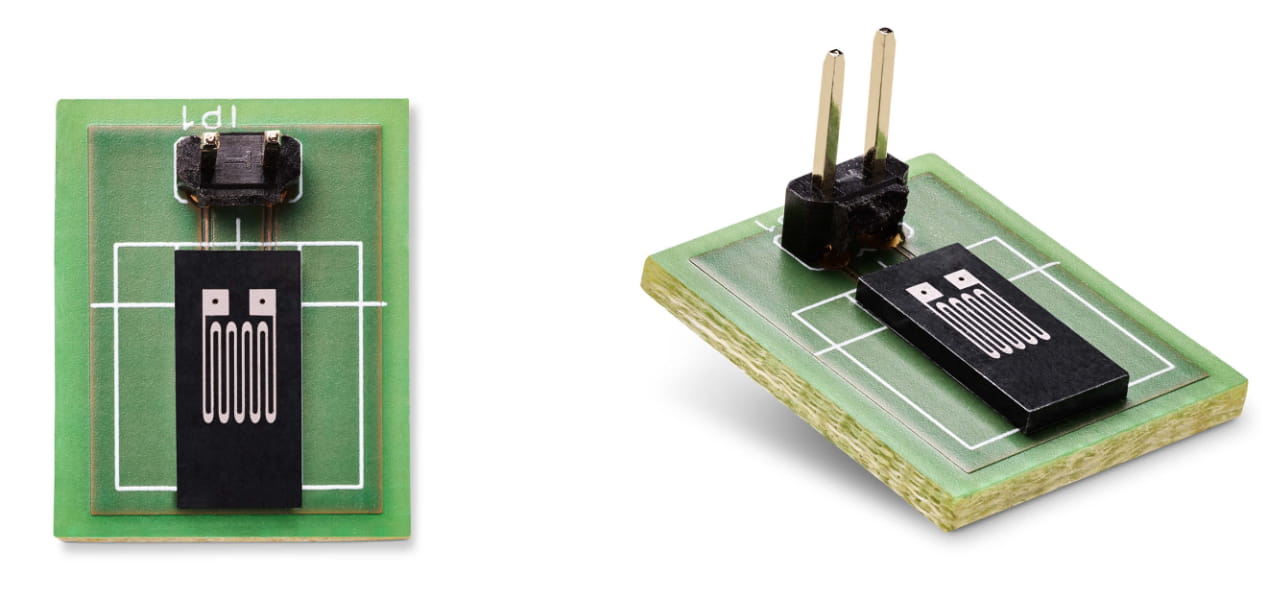 Production of Sensor Systems made Easy, Fast and Cost-effective
With Ensinger Microsystems, we offer a new way of manufacturing sensor systems. Instead of time-consuming and cost-intensive production in a clean room environment, our concept of structuring with plastic injection moulding enables a much simpler and cheaper production and assembly. This makes it possible to manufacture microtechnological systems with less financial and technological effort with similar precision as conventionally manufactured microsystems.
Easy, fast and cost-effective manufacturing and assembly - without the need for a cleanroom environment
Highly qualified experts accompany you at every point of the value-added process - from the compound to the finished sensor system
Individual solutions for your application: magnetic field sensors, pressure sensors, CO2 sensors and numerous other applications are possible
We not only offer over 50 years of experience in the development and processing of thermoplastic high-performance plastics. Our experts for microsystems accompany your project to every point of the value chain. This is how we ensure the highest quality - from the compound to the finished component.
---
Innovative materials and manufacturing processes
With our newly developed manufacturing process, we produce microstructures and sensor systems in consistent quality by injection moulding from our specially developed laser-structurable high-performance plastic. This replaces or even makes obsolete process steps that previously had to be carried out in a clean room environment. The number of steps required to produce a usable system is also significantly reduced.

Conventional sensor systems are currently still structured using lithography processes. Due to the photo-resist-based structuring processes, the established production processes for sensor manufacturing must necessarily take place in a cleanroom environment. This necessitates high investments in infrastructure and plant operation.
Conventional Process in Silicon
Our manufacturing process developed at Ensinger Microsystems uses plastic injection moulding to produce substrates that can be manufactured in high volumes on a microstructured mould insert. Instead of structuring individual silicon, glass, sapphire wafers or foil substrates, it is thus possible to significantly reduce the number of individual process steps.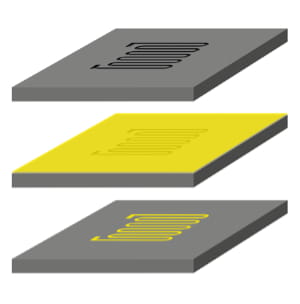 Innovative new Process on PEEK
The substrates pre-structured with this process consist of a laser-direct-structurable (LDS) high-temperature thermoplastic TECAPEEK LDS. The combination of the pre-structuring of the substrate, the 3D capability of injection moulding and the functionalisation of the substrate now enable a significant reduction in the process chain compared to the conventional production of microsystems, as well as a reduction in the back-end processes and a simplification of complicated contacting.
In addition, the combination of this process chain with the LDS process known from MID technology (Mold Interconnect Device) opens up backside contacting, which significantly simplifies subsequent assembly compared to conventional silicon substrates and avoids possible wire contacting. Accordingly, the manufacturing approach presented requires a lower vertical range of manufacture. Investments in machine technology and possible clean room infrastructure are significantly reduced.
---
Sensor Applications & Industries
Pressure Sensors
Strain Gauges, Pressure or Temperature Sensors
CO2 Sensors
Vibration Sensors
Current Sensors
Magnetic Field Sensors
Magnetoresistive Sensors